In 2023 Just Pedal are very excited to be running the DPCC training week for the 6th time. We will be heading to Spain once again heading to the city of Girona for the first time. A haven for pro cyclists and home to some of the best cycling in Spain. A trip not to be missed.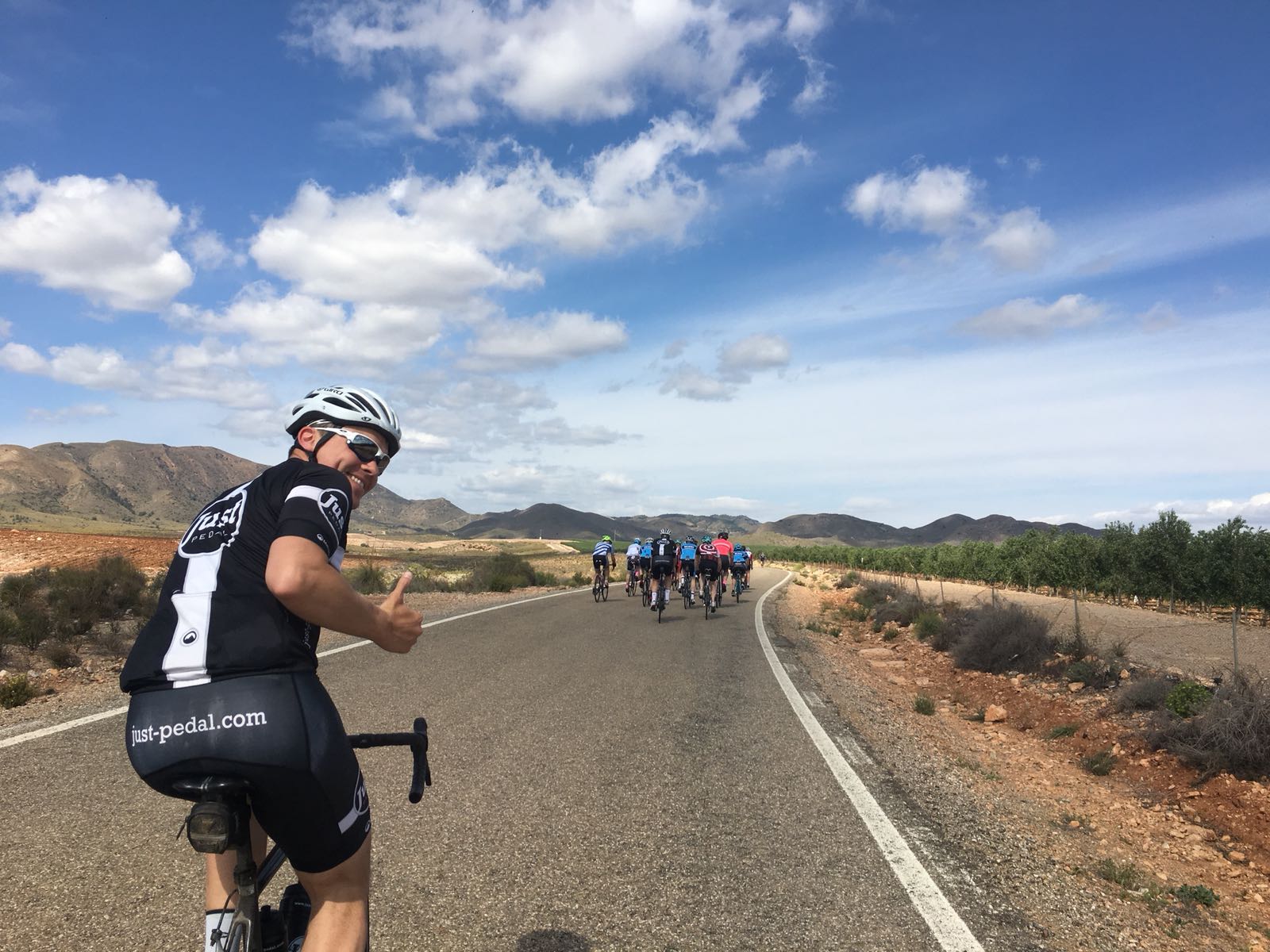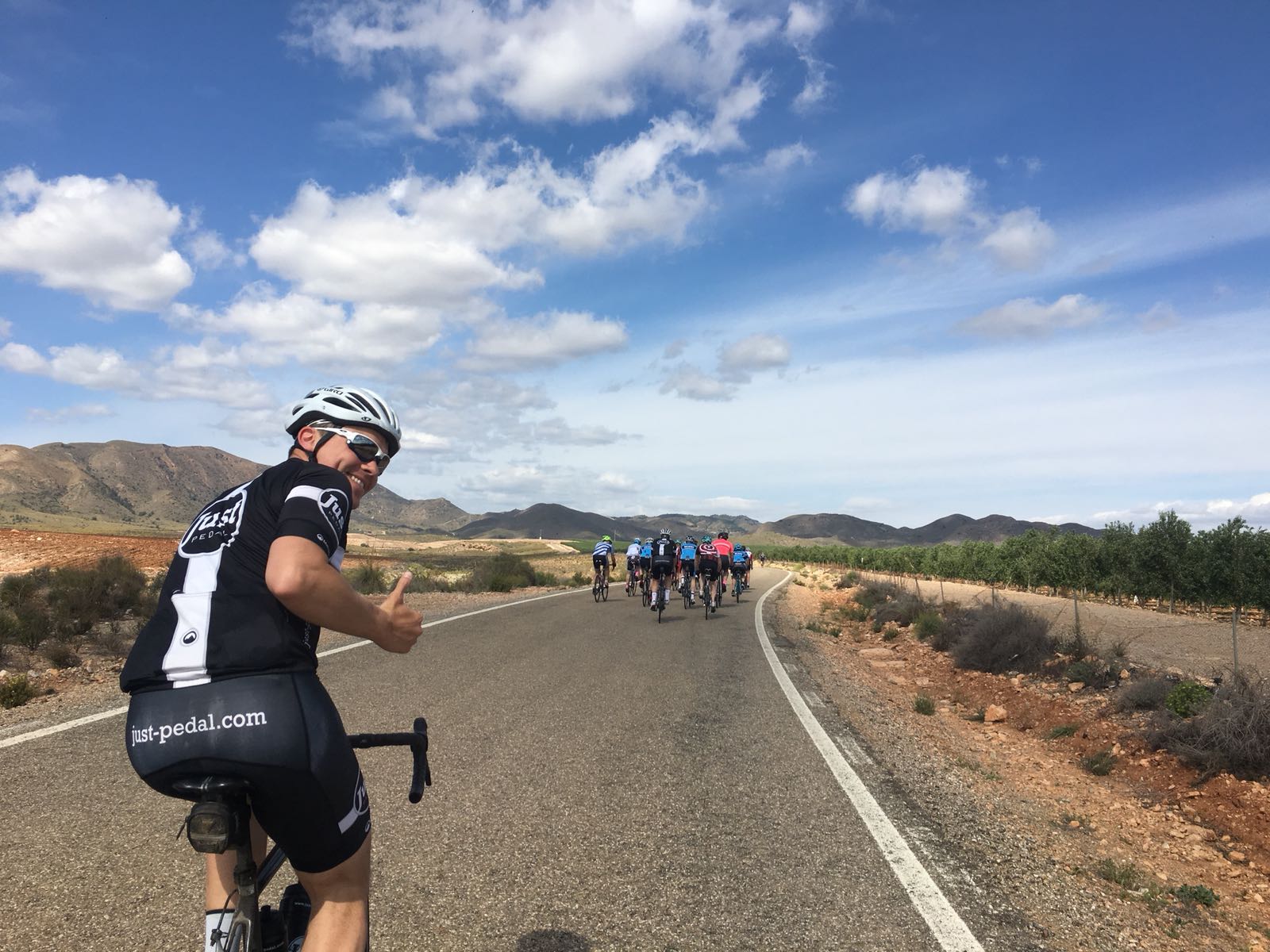 What's Included
4* hotel accommodation (twin share, half board)
Airport Transfers (If flying on recommended flights)
Different speed groups and routes to suit all riding abilities
Full support crew include qualified mechanic(s), ride leaders and support vehicle(s)
Ride Leaders include  road racers, former pro riders & coaches
Detailed route info, gps data, & route profiles
Timed Hill Climb Challenge
Transfers are included for those flying on the recommended flights only.  If you choose to arrive on a different day or at a different time transfers are your own responsibility.  
The cost of transfer depends if you fly into Girona or Barcelona
Girona transfers are approximately €30 for 1-4 people (less for larger groups) and take ~30 mins.  Transfers from Barcelona are approximately €200 for a group of 1-4 and take ~90 minutes
Extra's/Not Included
Flights for arrival / departure
Bike transfer from London 
Bike & helmet hire (£55 per day or £195 for 7 days)
Single Supplement (£55 per night)
Personal clothing and equipment
Insurance (Proof of travel insurance is required at time of booking)
Any pre and post travel COVID-19 testing requirements
Lunch
Drinks & Bar Bills
Accommodation
Our 4* hotel is situated in the heart of  the Catalonian city of Girona, Know as 'pro town' Girona is home to many world tour cyclists and has been used as a training ground for many famous victories. 
The hotel is a short work to the famous and historic 'Barri Vall' old town, giving great access to the city's sights, bars, restaurants and shops.
There is a gym, secure bike storage in our own private room and panoramic views of the city from the terrace.  
Food & Nutrition
We know that nutrition is a key part of any cycling trip and of the up-most importance to all cyclists.  We have worked closely with the hotel to produce a menu that suits all dietary requirements and provides plenty of options for hungry cyclists at breakfast and dinner time.  On this trip we will also venture out into the old town for two meals out during the week. 
On the ride we will supply snacks and water.  You will need to bring your own energy products.  We will also have some for sale on the trip.
Trip Dates
April 29th – May 6th 2023 You are able to arrive or depart at any time between these dates.
Prices
Costs:
• 4*hotel accommodation (twin-share; half-board)
• 7 nights: £950 (Based on 30 riders attending, 21 – 29 riders: £1150pp, 20 riders or less: £1350pp)
50% deposit required based on 30+ rider price.  Final payment due 4 weeks prior to departure and will be adjusted based on numbers registered at that time. 
• 3 nights: £525pp
• Additional Nights (£140pp, please contact us to book)
• Single Supplement (£75 per night)
• Bike & helmet hire (£265 for 7 days. Full carbon rod bike with 105 or Ultegra)
• Flights are approximately £116 at the moment (destination to be Alicante)
Recommended Flights
Recommended flights below.  Some club members are travelling by train from Paris to Girona.  Please let us know if you are taking up this option in the rider information survey. 
| | | | | |
| --- | --- | --- | --- | --- |
| DATE | ROUTE | FLIGHT NUMBER | DEPARTURE TIME | ARRIVAL TIME |
| Sat 29/04/23 | LGW – BCN | VY7831 | 09:10 | 12:25 |
| Sat 06/05/23 | BCN – LGW | VY7824 | 17:55 | 19:15 |
We tend to be pretty flexible on itinerary and try to offer multiple routes each day for all abilities.  Below is a sample of what to expect from the trip.
Day 1 – Arrive in Girona.  Potential shake-down ride depending on arrival time
Day 2 – Check bikes,  Warm up ride to Banlones where we stop for coffee next to the famous lake. A hotspot for pro spotting.
Day 3  – Today we ride further inland where take on the famous climb up to a local dam. Potential pre-dinner QA session.
Day 4 – The DPCC Epic.  Today we ride some classic roads from the Vuelta and take-on some of the large local climbs.  Including an accent of the famous Rococorba.
Day 5 – A recovery ride for those wanting one or more climbs for those wanting to push on! Potential pre-dinner QA session.
Day 6 – After the day 5 recovery ride we mix things up to accommodate different training needs.  Some will want to go flatter others hit the hills for another epic.  We'll present the routes and it up to you to decide.  
Day 7 – The final full day of riding and again different routes will be on offer for those wanting to push themselves to the max and those wanting a more relaxed end to the trip.  Epic climbs, views and coffee stops as standard before a final well earned night out in Girona. 
Day 8 – Departure day: It's unfortunately time to return home or maybe one last short ride and tostada for those flying out later.
When you click BUY NOW you will be asked for your payment card details. Once the payment has been processed you will see a confirmation message on this page and receive a confirmation email. We hope you enjoy your event.